It's not enough that Kindles are being introduced in schools to replace printed textbooks. Now there are some schools that are, on are planning on, going deeper than Kindles, with iPads in the classroom.
In South St. Paul, Minnesota, over $600,000 will be spent during the next 3 years to purchase iPads for 600 of the city's 3200 students, plus 280 more for staff and school district board members. South St. Paul superintendent Dave Webb told the St. Paul Pioneer Press that his town is one that "cares about students and wants the best technology available for them."
By joining other school districts from several states in purchasing these iPads, South St. Paul is spending $538 for each one. Not bad, considering that's about how much an iPad2 might cost.
In the Charleston, SC area, students at two elementary schools will be getting iPads after a test run involving several classrooms at one of the schools was considered a success. Teacher Amy Winsted of Drayton Hall Elementary told WCSC-TV 5 in Charleston that iPad usage has "made a huge difference in learning. The kids' test grades have gotten much better."
Plans are for iPads, like Kindles, to be used in place of printed texts, with the eventual goal of making sure every student in the Charleston County School District gets an iPad.
Even Ft. Leavenworth, Kansas is spending more than half a million dollars on iPads for students in three elementary schools to use during the 2011-12 term. According to Superintendent Keith Mispagel, his district is not spending on something cool, but something instructional, because the iPads in question are being purchased instead of printed math books, and could well replace the purchase of language arts [English] texts.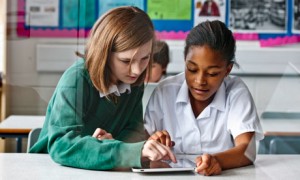 Ft. Leavenworth School Board chairman Myron Griswold says that the big thing about iPads is that "you can learn and have a lot of fun." School district technology services supervisor Al Landever said that because the system was simpler for children to use, compared to other similar computer tablets, "It's in no way a barrier to learning. The windows pop up, and they just jump through them."
Another case of iPads in schools comes from LaRue, Ohio, about 60 miles north-northwest of Columbus, where handicapped elementary school students who have trouble speaking can use an iPad app called Proloquo2go do kind of do the talking for them, and that's in addition to students using the devices themselves to read books.
But as sure as schools are introducing iPads, Kindles and other such gadgetry into the schools to try to get them from the 20th to the 21st century, the Louisville Courier-Journal editorialized that "there are still occasions when an old-fashioned book is irreplaceable—for practical reasons", like underlining text or scribbling notes on the margin, which you can't do on a Kindle. This as one of Louisville's high schools is about to begin giving Kindles to students.
Budgets are tight in many school districts throughout the country, due, in a few cases, to cuts in funding from legislatures in several states. While schools must be careful what they spend their money on, one would hope that an iPad, whose cost might be equal to 5 textbooks per student, can be worth the expenditure if used properly, and the students are showing progress in their grades as a result of such use.
Do you think it's worth it, from a taxpaying perspective, for students to have iPads?
About the Author