By Kathleen Blackwell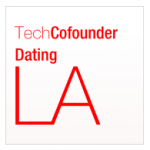 Move over Pattie Stanger, there is a new matchmaker in town. Scratch that…a new "matchmaking group" in town. Last Wednesday night I attended one *badass* meetup event: Tech Cofounder Dating LA. Organized by Aaron Abram and sponsored at BLANKSPACES LA, the evening was the first "dating kind" on the burgeoning L.A. startup scene—and much like a first date, too, all sorts of tech people were in attendance looking for their better half…their cofounder. A Wiki-moment in the making, file-stamped "Cofounder Matchmaking," Wednesday, November 9, 2011 marked the official launch of Tech Cofounder Dating LA.
Organizer Aaron Abram says he founded this concept based on a "selfish need to find a cofounder who actually wanted to build a tech company rather than just talk about building a company."
Yes, like many of us who have run up against the "douchebagery" types—the "I've got a million startup ideas" person (yet, never seem to actually start anything)—Tech Cofounder Dating LA was actually founded on the premise that somewhere in our land of silicone in the Silicon Beach, there does exist…doers.
Aaron saw a problem in the market based upon his own need and wanted to fill that void by creating a viable solution, his meetup group. He quickly determined that there were a slew of people seeking their "better business half," for as quickly as he posted the event on meetup.com, they were over-capacity and had people on the wait list chomping at the rope to get in—as if this was their "only hope" for a true business hookup.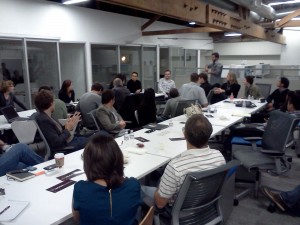 I discovered Tech Cofounder Dating LA through a Google search, as I, too, was looking for that proverbial "significant other, left-brain business development strategist" to round out my creative energy and the moment I stumbled upon this meetup—I signed right up! I couldn't help but hope my new business partner in crime was right around the corner. And guess what? The über-sweet news is the Tech Cofounder Dating LA event was every bit as cheeky-geeky cool as I imagined it would be because the people who showed up were there with a serious intent to make a connection—yes…doer!

In his opening remarks, Aaron said to "think of this group like your Y-Combinator." The format was warm and welcoming, as if a large group of friends were sitting around a campfire…lots of camaraderie. Everyone was mingling (and snacking on the trendiest cupcakes in town sponsored by BIGMANBAKES—serving up fresh, moist, mini cupcakes in assorted flavors like "old school," "red velvet cake," and "black & white"—delish!), then moved into what I would classify as an open mic session for entrepreneurs whereby everybody had an opportunity to introduce themselves "on the mic," and explain their business model and/or startup, along with their "dating" needs, i.e. "I'm looking for a full-time CTO or business person to backup our frontend development on a major social networking platform that we have investor interest on."
I was duly impressed with the array of entrepreneurs present, from tech to business savvy, veterans to new-bees, all with the intent on building awesome technology companies here in Silicon Beach, Los Angeles.

What were a few general themes that popped up in the open mic sessions? Well, 1) the word "content" was used frequently, 2) there were what seemed to be a handful of "groupon-esque" related businesses attempting to isolate and dominate a niche, as well as 3) crowdsourcing in a niche, like crowdsourcing around the concept of getting a tattoo, or in one humorous moment, "crowdsourcing a boob job—boobfunder.com," (which in Hollywood, well, almost seems natural nowadays, plus aligning the concept in support of breast cancer), 4) there were a few location-based travel ventures, and 5) in several instances many presenters were marketing the fact that their startups empowered people by giving individuals a new economic opportunity.
What were the most unique pick-up lines? I'll highlight two: 1) "Hi, my name is Gregg and I look like Borat." (Insert crowd laugh here, because Gregg did look like Borat.) And for the record, (one of) Gregg's businesses is boobfunder.com. So, now you can put a face to the concept—meet Gregg Martin! And, 2) "Hi, my name is Tracy, and I've been a licensed nerd for 30 years." (Insert intrigue here. Tracy definitely led the room in all around experience—a former executive at toy-giant Mattell—with a cutting-edge vision for whether a consumer-based product would actually work. Tracy also claimed to be a "professional naysayer"—which is a great quality in business.)
Just a few of the cool entrepreneurs in attendence were:
1. Jason Lewis: ThinDish.com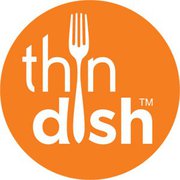 I met this guy Jason Lewis from ThinDish (exclusive still to come). I love the concept of his startup ThinDish.com, which Jason said was conceived when he found himself working up a storm and living life a little bit "too large." Yes, Jason had gained a few pounds from working long hours, then enjoying life, and wanted to make some healthy changes. Since he loved the experience of eating out, he was looking for healthy dishes at local restaurants to help him trim down, but discovered that not many restaurants had their nutrition labels published on their menus, or had low calorie options, so he set out to discover, then promote low calorie dishes at local eateries. Every entre on ThinDish is under 600 calories.
When Jason finished his open mic session, I asked him if a "draft beer counted in the 600 calories." He said no. Darn it. [But hey, after the event, I did learn from Tracy about a local restaurant/bar in Echo Park serving up 72 taps of craft beer called Mohawk Bend, and Tracy says they even have a "beer flight menu"—fun!]
What is Jason looking for in a Cofounder? "I'm looking for someone with strong technical skills and also a passion for food. Hopefully healthy food!"
2. Chris Kim: Meescore.com

I met Chris Kim, Founder of Meescore, (exclusive still to come). This is an amazing startup—a brilliant concept and very much a hot topic trend—Meescore.com. Many of you reading this have probably heard of Jason Calacanis, and if you follow his "This Week In Startups" show at all, or his Tweets, you'll hear him talk about Klout. If you are not familiar with Klout: "The Klout score measures influence based on your ability to drive action. Every time you create content or engage, you influence others. The Klout score uses data from Social Networks in order to measure 1) true reach, 2) amplification, and 3) network impact."
So, if Klout does all that, what does Meescore do? Um, way more! Meescore takes a giant leap forward by bridging online influence with offline activity.
Chris Kim says, "Meescore.com shares some similarities with Klout but is far more interactive and has a better model for monetization. Like Klout, Meescore gives you a tangible score that represents your activity on other social networks.

However, instead of just measuring your social reach of influence, Meescore measures your social quality, or "coolness" for lack of a better word. The way it works is through a fun voting platform that allows the community to determine what is "cool" and "uncool." By voting on the different social activities of others, the community can essentially decide that eating at In-N-Out is cooler than McDonald's. People associated with those activities will have their Meescores increased or decreased accordingly."
I met Chris after the event when he sat down with me and showed me exactly what Meescore was…and wow, I must say that his working prototype and future roll out / vision is absolutely amazing and very user friendly. A win-win.
What is Chris looking for in a Cofounder? "CTO Skills."
3. Joel Downs: Answerbag.com / Social Q&A

While I didn't specifically speak with Joel after the event, I heard him speak. Joel's business savvy and integrated Q&A concept definitely caught my attention because his service was based upon providing a fun and unique audience engagement tool. Joel founded Answerbag.com—the first Social Q&A site and the third-largest—a company focused on providing social Q&A tools to other sites. Joel was at Tech CoFounder Dating LA to talk about his new company, Degree3, also centered around Q&A with social integration. (An exclusive to come soon.)
What is Joel looking for in a CoFounder? "I'm looking for cofounders / partners who are either strong in marketing or strong in tech. If you specialize in one of those areas, I can focus on the others."
…And that's just a few of the types of techie-entrepreneurs who showed up to the first Tech CoFounder Dating LA meetup. One startup I'd also like to mention is a company called $lash8—a mobile payments app that will allow you to pay anyone at anytime with just your cell phone by utilizing QR codes instead of an NFC chip (exclusive still to come.) $lash8 was founded by C.J. Windisch, a former Silicon Valley software engineer turned startup founder.
There were 40+ in attendance with concepts and skills ranging from diagnostic imaging in bone density and medical tech, to a stereoscopic 3D fashion app, to urban planning and aggregating contribution mechanisms, to catering to niche sports fans (for example, 'wide receivers'), and niche-specific content creation. So, if you're looking to connect up with your future Cofounder, the Tech Cofounder Dating LA event is a must attend.
The next event: Thursday, December 8, 2011 at 7PM with Miso Media—a TechCrunch Disrupt 2010 People's Choice Winner:
"Miso Media develops mobile and iPad applications specializing in music education. Funded by the likes of Google Ventures and Justin Timberlake, Miso Media is one of the hottest startup companies to emerge from Santa Monica, AKA Silicon Beach."
"So, come and get actionable information on how to get your startup off the ground and what it takes to build a successful company. We will cover business and technical topics, and as always, the event will be a great place to meet cofounders and other team members." — Aaron Abram, Founder of Tech Cofounder Dating LA
About the Author