By Kathleen Blackwell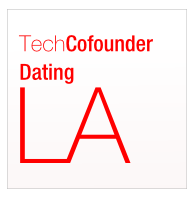 Last Thursday night, I attended the second installment of one *badass* Meetup event: Tech Cofounder Dating L.A. featuring Google AND Justin Timberlake funded "Miso Media," a developer of music education apps for Mobile/iPad devices, held at BLANKSPACES LA. Organizer, Aaron Abram brought his A-game—securing Miso Media's Founder/CEO, Aviv Grill, and VP of Engineering, Brandon Goldman, for an upfront and personal discussion on what it takes to build a successful tech startup company. Aviv and Brandon shared their "off the record" journey—from flat-broke living with their parents to $3 million in Venture Capital (VC) funding.
In one word…WOW! Don't take your butt off your seat until you read this inspirational story of Miso Media—it's all about "the CEO hustle." Do you have what it takes? Hang on for the ride.
Organizer Aaron Abram's opening remark: "Tech Cofounder Dating L.A. is designed for people who are looking to join, build and expand their tech companies—we are a resource to help you succeed, and Miso Media is committed to our endeavor." It was a sold-out crowd with 51 participants. Many familiar faces returned to the "cofounder matchmaking series," which debuted as an instant hit this past November. As a matter of fact, at a recent fireside-chat I attended hosted by DocStoc, featuring TechCrunch Founder, Michael Arrington, Arrington himself mentioned that if he had the extra time, he would help develop a series focused on connecting up founders. […seems like Organizer Aaron Abram is ahead of the curve!]
Tech Cofounder Dating L.A. also saw the return of the trendiest mini cupcakes in town sponsored by BIGMANBAKES—(serving up fresh, moist, mini cupcakes in assorted flavors like "old school," "red velvet cake," yummy "carrot cake" and "black & white"—delish!) which attendees cleaned off by the event's end, leaving no crumbs in sight. Also making the rounds that night, was celebrity/corporate photographer, Jonah Light, whose long list of loyal clients include: UCLA, Cedars-Sinai Medical Center, Warner Brothers, Forbes, Virgin Records, Creative Artists Agency, National Geographic, ESPN, LA Dodgers, Carl's Jr., Robbin's Brothers…just to name a few.
Now Introducing Miso Media

Miso Media is a Silicon Beach-based startup that develops ground-breaking music technology and mobile/iPad applications. By combining polyphonic note detection and real-time feedback, Miso Media is revolutionizing music education and music notation, and teaching people how to play music in creative, new ways. Think Guitar Hero with real notes, real instruments and real learning.
They were the 2010 recipients of the TechCrunch Disrupt, "People's Choice Award," and they currently have 20 employees and $3 million in Venture Capital funding from: Google Ventures, Justin Timberlake, Keith Rabois, Mind Fund, Aria Ventures, Detroit Venture Partners and others.
>>Some of the notable questions Organizer, Aaron Abram asked Founder/CEO, Aviv Grill:
How do you keep your team motivated? People put in 60 to 70 hours a week, said Founder/CEO Grill, and last week we all went to Catalina Island and went zip lining as a group.
Who is the perfect employee? R-E-A-L-L-Y smart and somebody who has no life. [Insert a big chuckle from the audience.] If somebody is really smart, they can learn what is needed. The reality is that a 23-year-old who is single can work 70 hours per week. We're trying to find really smart college dropouts who are passionate enough to program all week—yes, that includes weekends.
Tell us about your interviews? We have people do a series of puzzles, like Tower of Hanoi, or Project Euler Pyramid and a series of programming word problems that can be solved in 100 ways, but can you find the most efficient way? Our interviews are long. If you've been interviewed for only 15 minutes, you know you didn't get the job!
How did you demo at TechCrunch Disrupt, did you have connections? Anybody can sign up for Startup Alley, it costs $1,000, but 99% of those who exhibit don't get anything out if it.
Grill talked about how they were barely able to afford the trip up to TechCrunch Disrupt as they rented a twelve-seated truck to fit their whole company. He continued that they couldn't afford to have high tech booths with large plasma TVs and giveaway pens, shirts and other useless items. To their credit, they kept their heads up and showcased the product…music. We put a guitar amp and two stands in front of us and we sat and played music instead. We had some empty chairs in front of our booth so people could sit and learn to play different instruments. That was different, i.e. memorable. That got us noticed. Being different is by far the most important thing.
Did demoing Miso Media's product following the "People's Choice Award" at TechCrunch Disrupt clinch the funding from Google and Timberlake? Ahh…[grin], the night we presented was the most exciting night of my life because you sacrifice so much up until that moment. And now we were demoing our product to the entire audience, which included well-known people, like Yuri Milner and Keith Rabois, who later tweeted 'I should have asked to invest in Miso Media while they were on stage'.
Following our 'People's Choice Award' and our demo to all of TechCrunch, we were approached by 40 VC's whom I met with over the next couple of days and subsequently received 40 VC rejections.
Aviv didn't give up! He went up to his hotel room, reviewed his answers, and put together a new approach to answering questions posed by the VC's.
Did you go back to the 40 VC's that rejected you with the new pitch? There are plenty of people who you can get money from. Google, Justin Timberlake and the others were the next people we met with.
In conclusion, what can we learn from Aviv Grill and Miso Media? (One: Help) You need help. Aviv mentioned several times, if it wasn't for his wife working full time, there wouldn't be a Miso Media. (Two: Resourcefulness) Miso Media didn't have money, but they used what they had, they put all their focus on their product and won the "Peoples Choice Awards" at TechCrunch Disrupt, i.e. circumstance made Miso Media different. (Three: Resilience) Aviv is resilient. He got rejected 40 times, went back to his hotel room, changed his whole pitch deck, got seed funding by Google Ventures, Justin Timberlake and others. Then he got a Series A round of funding from Mind Fund, Aria Ventures and Detroit Venture Partners. Aviv Grill's resilience got Miso Media $3 million in the bank.
About the Author