By Kathleen Blackwell
Last Tuesday I attended The Startup Conference LA as an entrepreneur looking to continue my learning curve and carve a local networking niche with other like-minded business people. The Startup Conference LA was organized by Alain Raynaud, Director of the Founder Institute in Paris, who delivered a fun opening line to kick-off the days events…"Having wifi work in a room full of crazy geeks is really, really hard."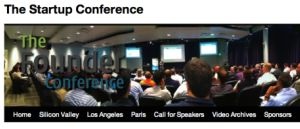 The Startup Conference LA was centered on delivering experienced talent and straight-forward rules of engagement to a room full of, naturally, startup geeks, where Raynaud said the headlining activity included "a mix of famous speakers and soon to be famous speakers" in order to give attendees a balanced perspective [and to get to know the ones on their way to the top]. The speakers were fantastic—ranging from a keynote by Mark Suster (GRP Parnters / "Both Sides of the Table"), to gamification wizard Gabe Zichermann (Gamification for Startups: Supercharging Engagement), to Rebecca Woodstock (Cofounder of Cake Health / "From Bootstrapped to TechCrunch"), to Paige Craig (Cofounder of Better Works), and an Elevator Pitch Competition, to highlight just a few.
Before introducing the keynote presentation, Organizer Alain Raynaud, who also runs a Cofounder Meetup in Silicon Valley, had some excellent tips on the subject of cofounders. First, Raynaud said that most people ask the following two questions about cofounders:
1. How do I find a cofounder?
2. How do we split equity?
Raynaud said the best cofounder is usually someone you've already worked with. That sentiment was echoed by the Founder of Cake Health, Rebecca Woodstock ("From Bootstrapped to TechCrunch"), when she gave an open talk about the "dating" process she went through to secure a cofounder, who turned out to be someone she had known and trusted in the end.
5 mistakes people make in a cofounder search:
Mistake #5: I can't tell you my idea
Raynaud suggested that most people are not going to go out and copy your idea and even if they tried, they do not have the same blueprint in their mind as you—the creator of the idea. So, don't worry, just do.
Mistake #4: We split the equity equally—25%/25%/25%/25%
Raynaud said, "Splitting equity in this manner shows that you have not had frank discussions with your team. A 50/50 split would mean that the company could not exist without that other person. Usually, you do not split equity equally."
[If you're looking for a tool to help you calculate equity, Raynaud created a Cofounder Equity Calculater, which is very cool because it acts like a middleman, or a counselor, between you and your cofounder(s). Raynaud suggested that you each use the calculator independently, then compare your results with your cofounder(s)—a great tool for determining how you each think up front.]
Mistake #3: We haven't decided who the CEO is yet
Raynaud said frankly, "You need to have this discussion."
Mistake #2: I'm full-time, everybody else is part-time.
"Part-time people will be left on the side of the road quickly—it's just a natural byproduct," said Raynaud.
Mistake #1: We have lined up a great team! All we need now is a developer.
So, how do you convince a developer to join you? Raynaud pointed out that showing traction helps significantly—1) show that you have customers signing up, 2) show that you have investors lined up, and 3) show that big names are partnering with you.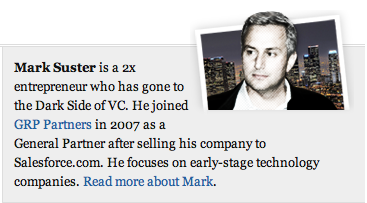 Enter keynote speaker, Mark Suster (GRP Partners / "Both Sides of the Table"), with a stream of experienced insight, practical knowledge, and golden nuggets of wisdom for startups. I really enjoyed Suster's energetic keynote, where he opened with a term called "wantrapraneurs." What's a "wantrapraneur"? Basically, there are a whole lot of "wannabe entrepreneurs" out there who talk the talk, but don't get down and dirty—they don't get the doer work done. (In the music business, as a former executive at Sony, we used to call those types posers.)
Suster had this to say about entrepreneurship: "98% of people think they need an epiphany, like they need to beat the Google search engine algorithm," when in actuality, all you need to do is have a great concept and simply…start. "You just need an idea, you don't have to be a genius, just get started."
Suster also said, "What separates the wheat from the chafe is that most people are dreamers," and he said that he has "funded 0% of businesses that have to do with bars, restaurants, or music," then kidded-around, wondering if half the room in attendance were in the music business. [I couldn't help but chuckle over that one myself—was he talking to me?!]
Other golden nuggets of startup wisdom by Mark Suster:
You no longer need to wait to start a business. What's really changed is cloud computing.
Be careful of too many cofounders. Watch what VC's do. VC's don't typically share the deal with "5 people." People [have too many cofounders] out of fear, as it's very hard to call up friends and family saying you are all in by yourself—because most businesses fail. So, what's the answer? Have confidence.
There is a huge premium for taking the first step. This first step should not take you longer than three months:
Set up the site
Design the logo
Get the legal work done
All of this "first step" should not cost more than $2K, suggested Suster. Suster then said, "Hire your cofounders, be generous with equity, and yes, you need a prenuptual agreement." Suster joked that in Vegas you can get an annulment [but it's not so easy in business].
"Don't be 'Winklevossed.' Sign an agreement where the IP stays with the business if someone leaves." – Mark Suster
When raising capital, Suster said to avoid the 3 F's:
Friends
Family
Fools
Why? Because again, most businesses fail and Suster said, "This makes for a hard Thanksgiving dinner, therefore seek realistic investors." Suster went on to susggest that you need an anchor angel investor.
How do you get an anchor angel investor?
Suster said, "Ask them to be an advisor first. Then don't be afraid to ask for the order—you have to ask for it, or you are not an entrepreneur. Go for the guilt and tell them if you write a $25-50K check, I'll match it with equal shares on top."
"Don't cold call VC's. We just cannot take that many meetings. If you cannot get an intro to me, with all the social media today—you suck (in good humor)," said Suster.
Also, "I suggest you do 50 coffee meetings a year with startups who are one year ahead of you in their business building," said Suster.
What are VC's looking for? Suster said that VC's are looking for the 4 M's:
Management
Market Size
Money
Momentum
"There is no such thing as a VC funding season—it's all year." – Mark Suster
Think of it this way advised Suster, when you were going to the prom, if there was one guy and three girls, the guy won't ask any of the three girls [he likes] until he knows another dude is going to ask one…then he'll sneak in and ask the girl before lunchtime…beating the other guy to the punch.
What drives most deals?
Suster used a term—FOMO—fear of missing out. Suster said, "When money is available—take two, and save it. …Shoot for 18-24 months of runway."
A few final nuggets of wisdom from Mark Suster:
Don't let a pivot become a travel. Manage what you measure—know your metrics. Learn from your competition. Triangulate—ask opinions. In the end, trust your judgement.
Focus on large markets.
Don't be a conference HO!
Solve Problems.
Skate where the puck is going.
And probably my favorite startup-related line of the day?
"Startups are like sausage—they taste good, but you don't want to see it being made." – Mark Suster (GRP Partners / "Both Sides of the Table")
Lastly, when do you sell your business?
Suster said, "You're always for sale."
The Startup Conference LA was an intimate, information-packed event, and I highly recommend the conference to anybody looking to take their business game to the next level. If there is one consistent theme at many of these tech events, it's that like in Hollywood, if you're not connected, you're not going to get through the door, regardless of talent. One more consistent theme? Bring your A-game, as anything short of that will not get you through the door either. It's a serious business.
About the Author