The Techie Minute (VIDEO 2) – 1) Facebook & the No Email, Email 2) Facebook & the Holy Grail & 3) Groupon COO & Spinal Tap
Welcome to the second installment of 'The Techie Minute'—a 'one minute dish' on tech gossip of the week—like Talk Soup meets MTV News for the tech world. Yes, this is a homemade video—recorded using PhotoBooth, edited using iMovie and Picasa—trying something a little fresh here at HOLLYISCO—a boutique press site covering entertainment technology from Silicon Valley, to Silicon Beach, to Silicon Hills.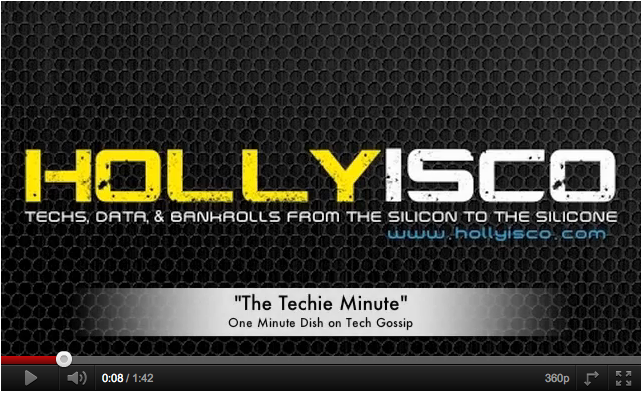 HOLLYISCO – The Techie Minute – Video 2
In this video:
BOOTSTRAPPING:
What is 'bootstrapping' your business? Bootstrapping is the art of building your business without much external help and on a budget. Two bootstrap concepts introduced this week on "The Techie Minute" are 1) Bootstrap Lighting—for when you don't have the Hollywood budget, or a P.A., and 2) Bootstrap Branding—how to make a mockup product using just your business card and packing tape only—kaching! The featured mockup product this week on "The Techie Minute" is WineBeer by HOLLYISCO.
THE DISH:
#1. FACEBOOK and the 'No Email, Email Announcement'
"Ello…Can you hear me? It's Me! Facebook!" "You've got two empty halves of coconut and you're bangin' 'em together."
Facebook sends an email, telling everybody they are going to be sending less email. It worked! Huge props to Facebook for successfully getting me NOT to login to their site for um, at least 36 hours, post their 'less email' announcement.

#2. FACEBOOK and the "Holy Grail"
F8 Developers Conference – San Francisco – 9/22/11
RT @HOLLYISCO Really fun read.. Re: Facebook | "Where were you on Sept. 22, 2011, when the world changed?" shar.es/HNwBQ
RT @HOLLYISCO hilarious! RT @marshallk your gramma called. she wants to know how to make the spotify work in the facebook.
RT @HOLLYISCO "On Thursday, Facebook will be reborn. Prepare yourselves for the evolution of social networking." – @Mashable
RT @HOLLYISCO Oops! RT @bmull by kevinrose Facebook Employee Reveals Killer Facebook Music Feature In Deleted Tweet bit.ly/pbBk70
RT @HOLLYISCO RT @businessinsider Facebook Got A Huge Revamp Last Night, Here's Everything You Need To Know by @ellishamburger read.bi/nbVe3j
Groupon COO, Margo Georgiadis, Exits After Fiver Months – #MickShrimpton
Thanks for watching the second installment of 'The Techie Minute.' Click here to watch the first 'The Techie Minute.' Follow us on Twitter @HOLLYISCO.