SXSW ScreenBurn Arcade + RockLive + Mike Tyson
The 2011 ScreenBurn Arcade began today at SXSW and was brimming with activity, featuring an emporium of geek lifestyles, and showcasing the newest in video game releases, as well as video game-related toys, game culture and more.
The three-day ScreenBurn Arcade showcases the latest developments to independent developers, publishers, consumers, digital media industry professionals, and internet trend-setters and taste-makers from all around the world with one of the ScreenBurn Arcade exhibitors being RockLive, based out of Irvine, CA, makers of custom apps that continue to change the definition of mobile and social gaming for the iPhone, iPad (which I'm typing on now), iPod Touch, and Android devices.
The cool thing is that each app is built around a celebrity individual, or famous entity, and designed to provide an outlet that offers further entertainment to fans and users. RockLive is hosting a meet & greet with Mike Tyson on Sunday, March 13 from 3 – 5 PM, to support the upcoming release of the Mike Tyson Main Event app and inside the ScreenBurn Arcade, RockLive even had a full-fledged boxing ring set up inside the ScreenBurn Arcade.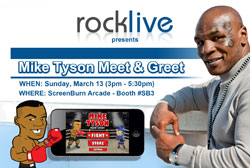 Mike Tyson makes his return to the ring as the undisputed heavyweight champion of the world in this hard-hitting, instant classic! Featuring a fresh blend of fighters from all over the world, punch your way through each round as the underdog in this pound for pound boxing competition. Advance from one circuit to another, dodging left and swinging right, en route to go toe to toe with Mike Tyson in the main event.
Anyone can experience the FREE and open-to-the-public ScreenBurn Arcade, so if you're in the Austin area over the next few days, check it out.