OFWGKTA: Odd Future…and Losing a Lot with Major Labels
So there's this hip-hop collective straight out of L.A. with a long name called Odd Future Wolf Gang Kill Them All. Since they have such a long name, they can also be known by its initials, OFWGKTA, or just by its first two words, Odd Future. For the purposes of this story, I will refer to them by the latter name.
They have been around since about 2009, but began venturing out of Los Angeles in late 2010 with a couple of live shows in New York and London, followed by a guest shot in early 2011 on NBC's Jimmy Fallon show, as well as several live appearances at SXSW in Austin, and according to a recent Billboard article, are also working on a live-action comedy pilot, described as a cross between Jackass and Dave Chappelle's old Comedy Central sketch comedy TV show, that they hope will be picked up by Cartoon Network for their late-night Adult Swim block.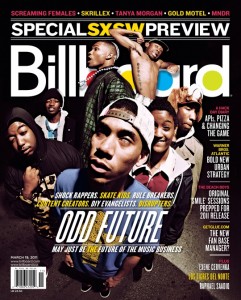 But now that they have all this buzz and popularity, Odd Future could have an intriguing future depending on whether they want to go with a major label or not. Currently signed to a technically independent firm out of Britain called XL Recordings, they have been managed since Fall 2010 by a couple of former development executives from Universal Music Group's Interscope label, Chris Clancy and David Airaudi, who formed a management firm called Three Quarter. In building Odd Future's name as a brand, Airaudi told the Los Angeles Times that "a record label doesn't necessarily have pole position. Creative control and freedom come first." Odd Future lead guy 'Tyler the Creator' told the Times that he'd never sign a recording deal without 100% creative control, saying that "You lose a lot when you sign with the major labels.  I'd rather be broke than have to rap over the same chord progressions as everyone else."
Tyler's right that "you lose a lot when you sign with the major labels." My thinking is that even if Odd Future retain creative control, they would also have to make sure they retain ownership of their master recordings. Otherwise, they'd be counted as "work for hire" artists, which means the record label would own the copyright on that master recording.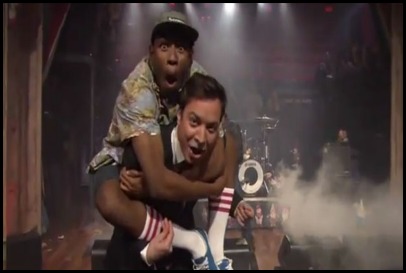 OFWGKTA on Jimmy Fallon
As if Odd Future was having enough of a time trying to figure out their future, a joint survey by ReverbNation and Digital Music News found out that 3/4 of unsigned artists still want to be signed to a major label.  Yes, you 3 out of 4 who were surveyed…go ahead and get signed to a major label, get a million bucks or so up front, then watch your creative freedom go down the tube while the recoupable expenses come in, particularly when you stand at least a 9-in-10 chance of not having a successful recording, and the music business in general has been declining in revenues for years.
Courtney Love did the math…Ciara has been wanting out…and yet there are still many among the unsigned who would rather give up the do-it-yourself, creative freedom of musical independence for a life of dependence and sheer uncertainty as a major-label artist.
For an interesting discussion on the survey, check out what music marketers Michael Brandvold and Brian Thompson have to say about it in their "Music Biz Weekly" podcast. You'll want to hear how surprised they were at the survey's results, as well as how there's still that mindset about artists wanting someone else to do their marketing for them, and how artists can be "slaves" and "working for the man." And Michael's comment about the unsigned's thinking a major label deal is that "golden ticket" make me wonder if those acts feel like they've been watching Charlie Bucket try to find his golden ticket to Willy Wonka's chocolate factory too many times.
Do you think major label recording contracts are "golden tickets"?  Or do you think they're merely "fool's gold"?