Foo Fighters – Red Carpet – SXSW Film Premiere of 'Back and Forth' + Bob Mould
"Back and Forth," directed by James Moll, was an exquisite look at the life of a full-fledged, respected, American rock band—Foo Fighters. The line to get in to see "Back and Forth" last night was wrapped around the block of The Paramount Theatre on Congress Avenue in Austin, TX, as the SXSW Film Festival rolled on. Just as I was entering The Paramount, the Foo Fighters arrived, and I was able to capture their moment—a mere glimpse into the fantastical elements of their life. Seen in this video are Dave Grohl, Taylor Hawkins, Pat Smear, Chris Shiflett, Nate Mendel—Foo Fighters.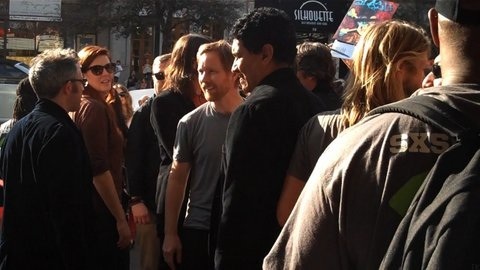 Foo Fighters – Red Carpet – Premiere 'Back and Forth' SXSW
The documentary chronicled the Foo Fighters rise to stardom, with an emphasis on Dave Grohl's journey from his early punk rock days, to Nirvana's drummer, to frontman of the Foo Fighters playing to an 85,000 sold-out crowd at Wimbley Stadium, shuffling players and emotions along the way. A funny line from the documentary, in which Dave Grohl is explaining the ever-changing line-up of the band early on, was when Grohl said the Foo Fighters had gotten to a point when being interviewed where the first question a journalist would ask is, "So…who's in the band today?" The line provoked a nice chuckle from the audience.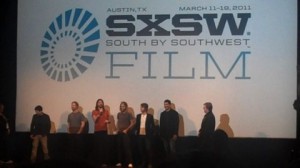 The "Back and Forth" documentary was rite with humor, intelligence, and passion—the guys in the band are indeed a funny crew—and makes its way to the recording process of their latest album, "Wasting Light." During the process, we learn that Dave Grohl simply wanted to get "back into the garage" to record, where he felt the process was the most real.
They brought in Butch Vig ("Nevermind," Nirvana; Garbage) to record the album—on tape. Grohl and band challenged themselves, and the digital world, by going back to a process they grew up on—a warmer process, experience, and sound. That said, fixing performance mistakes on tape was not an option, which meant their playing required the ultimate gift—perfection of the human kind.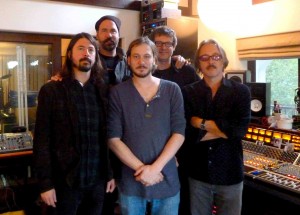 Much to my surprise, there were two guest appearances during the recording of "Wasting Light," one by the legendary Bob Mould (Huskur Du, Sugar) and one by Krist Novolselic (Nirvana). The documentary wraps with the Foo Fighters playing the world famous Roxy on the Sunset Strip in Los Angeles and performing one of their latest tracks, "White Limo."
Amazing! And—"Back and Forth" is a must see.