4chan and Canvas Creator, Christopher Poole, Says Facebook Creator Zuckerberg 'Is Wrong' and Talked Anonymity, Internet Memes, and a Surprise Result with 'Refrigerator Magnets' at SXSW
The standing-room only, speech-style conversation given by Christooher 'Moot' Poole, creator of the ubiquitous 4chan and newer Canvas websites, at SXSW Interactive was totally refreshing—quenched my thirst.
If you are not familiar with 4chan, in essence, 4chan is an image-board BBS-style website made up of an anonymous image-sharing community responsible for popularizing such Internet memes as lolcats, Rickrolling, "Chocolate Rain," and many others. Basically, on 4chan people post and randomly manipulate images, thus naturally hyping and creating potentially imitable trends. 4chan has become the go-to study site by media professionals, advertisers, educators, and just about anybody with a penchant for social trend-setting looking to market and capitalize on the next big thing.
« Powerful? You betcha. Another Facebook? No way. The two thrive on antithetical concepts. »
So what makes 4chan tick? Well, according to Poole, one word—anonymity. While anonymity is nothing new to the online gaming world, and has been depicted in group psychology in novels like Lord of the Flies, anonymity in the world of social networking is less pervasive, with known status updates and social surveillance at its core on sites like Facebook. Yet, posting on the quasi-social collaborative-community of Poole's 4chan is anonymous—no username required—and herein lies the philosophical difference between two of the worlds most influential and formidable creators—Christopher Poole and Mark Zuckerberg.
Poole asserts, "Facebook founder, Mark Zuckerberg says, 'Anonymity is a lack of authenticity.' I think that is wrong. Anonymity allows you to contribute in an untarnished way. We believe in content over creator."

"Fluid identity is important. We felt like without the ability to post anonymously, what we were loosing was the loss of the innocence of youth. Stick into that who you are and that doesn't allow for the cost of failure—to fail in an environment where you are being identified. So, when you have the ability to choose to be anonymous, it allows people to be more creative."
In my estimation—anonymity has crowned 4chan the King of Internet Memes, which is a bit of an oxymoron if we really think about it, because a meme requires something known in order to imitate. Alas, Poole's stance thrives on the assertion that deep down, people are afraid to fail—in public—but with a bit of inconspicuousness, they soar.
In terms of creativity, I tend to agree. Not too long ago I posted on Facebook that as an indie musician, I was similarly opposed to every single performance being filmed, streamed, recorded, and simultaneously uploaded for the world to see. I think my take was that even for the few fans I had at the time—failure was not an option, therefore I truly felt that my performance as an artist suffered. I was not allowed to experiment, learn, find myself—i.e. fail—fearing immediate social wrath in the chat rooms, but more importantly, engraved forever on the information superhighway. So, at the time, I played it safe.
Poole, in taking that fear of public failure into consideration, has opened the door to a whole new world of what he calls "fluid identity," where in addition to anonymity, randomness rules.
Poole says, "The culture on 4 chan spreads far and wide and was originally misunderstood. Founded in 2003 as an image sharing community, 4chan grew entirely from a chat room of 20 people—grew organically, with over 12 million users now. Internet Memes are born from this board. 'Random' is notorious for it's memes, and exploits, and the net culture that has been produced from it."

"It's anonymous, there's no registration, no structural barriers. Posts are created on the random board and can fall off in minutes. 4chan is a meme factory—content flow and exchange of ideas—every month people are coming and going, the community constantly changing. You can see how the culture changes as the day goes by, from the East coast, to the West coast, to Australia, and back. It's fascinating. One simply has to supply an image to start a topic."

"Topics range from photography, to Origami, to more adult stuff with a wide range of people on the site using it. The message board hasn't really come anywhere in the past 10 years—it hasn't changed. When you look at user net dial-up BBS, 4chan is not going to win any design awards, it's such a bare bones website, but it places us closer to the content—no archive, no registration. So one of the things that 4chan does that's special is in the way that people come together to collaborate in mass."
« 'Content creation = Idea + Image + Comment + Manipulate + Process by which you arrive at the final product = Meme fascination,' says Poole. »
I happen to love the concept of memes (an idea or element of social behavior passed on through generations in a culture, especially by imitating), and distinctly recall watching—three times—the Susan Blackmore TED talk on "Memes and Temes," which if you haven't watched, is a must. Listening to Poole speak about internet memes at SXSW reminded me of Susan Blackmore on TED, in action, and I was utterly fascinated because in a way SXSW has become a social meme, yes? Here I was, smack-dab in the middle of participating in one of the biggest social meme events of the year for the technology, film, and music industry, and I wasn't sure whether I should have felt annoyed, elated, flabbergasted, duped, or downright lucky for my "sheeple-esque" meme participation.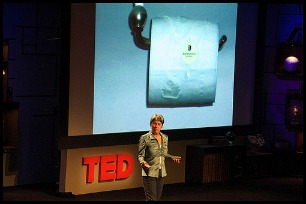 Susan Blackmore 'Memes and Temes' on TED
The thing is, people—not just techies—had come from all over the world to be at SXSW Interactive. The girl next to me in the Poole speech was a marketing representative sent by Rubbermaid (trying to revive their image; tech is the future-now). The night before at the Etsy talk by their code team, I had met a marketing representative for the wildly popular Food Network / HGTV (she thinks 'Gary V' is a personality; she's right, I saw him speak). The day before while people-watching, sitting in the general gateway to the conference, I met a guy who comes every year for the SXSW Film portion (a secret passion of his; a dream to critique). And, I had a very interesting "convo" with a SXSW volunteer, an artist of the drawing kind, who after what appeared to be half-past the half-way years of his life and financially struggling like many artists, was passionately hopeful and volunteering in order to meet people—to make a connection.
Can you guess, out of the four people mentioned above, who had the best story—the best meme? 1) Rubbermaid Representative, 2) Food Network Representative, 3) Film Lover, or 4) Volunteer? You got it—the volunteer. Towards the end of our conversation (well, I mostly listened), he tells me that one of his art pieces wound up in the hands of Bill Clinton—yes, President Clinton. Wow, talk about random. Here was a guy—unassuming, no formal title other than SXSW Volunteer, Artist—whose passion had inked its way across life, in random order, with a connection to former president Bill Clinton.
Art. Canvas is the latest online creation of Christopher Poole. Canvas, currently available by invite-only, allows users to upload content—only image files for now—and discuss items uploaded with other users. Similar to 4chan, other users can then upload their own, often Photoshopped, versions to the site. Casual Canvas-ers (or at least those without Photoshop) can use drag-and-drop icons available on the site, like "LOL," "WTF," or smiley faces, to add to the conversation. The content is then categorized by most-popular, newest, or "random," and tabs let users browse the site based on this criteria.
Pool says, "Canvas allows new and better way to help people create online."
After showing some very funny and socially poignant screen captures off his 4chan and Canvas sites, Poole begins to wrap-up his standing-room only speech by sharing his favorite game.
Poole says, "The refrigerator magnet game is my favorite game. What's special about this game is that there are no instructions, no rules, you can't tell how many people are on it and people come up with so many fun ways to do different things—like hoard the letter, or drag all the letters away, and my favorite example of this type of game was the 'Be My Valentine' creation that occurred on Valentine's Day.

"One by one, a heart-shape was starting to form with magnets on the site, totally anonymously, and in many instances, you might typically see the shape changed by a patron—erased, re-arranged, destroyed, etc., but the fascinating thing, on this day, everybody came together and the heart-shape was completed—anonymously and randomly—a heart was formed."
Ah—the beauty of random order, and a sign that group anonymity can create a united effort—hope. Christopher Poole has succeeded in capturing a collective, anonymous conscience. Refreshing.
> Sent from my iPad