By Kathleen Blackwell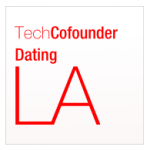 Move over Pattie Stanger, there is a new matchmaker in town. Scratch that…a new "matchmaking group" in town. Last Wednesday night I attended one *badass* meetup event: Tech Cofounder Dating LA. Organized by Aaron Abram and sponsored at BLANKSPACES LA, the evening was the first "dating kind" on the burgeoning L.A. startup scene—and much like a first date, too, all sorts of tech people were in attendance looking for their better half…their cofounder. A Wiki-moment in the making, file-stamped "Cofounder Matchmaking," Wednesday, November 9, 2011 marked the official launch of Tech Cofounder Dating LA.
Organizer Aaron Abram says he founded this concept based on a "selfish need to find a cofounder who actually wanted to build a tech company rather than just talk about building a company."
Yes, like many of us who have run up against the "douchebagery" types—the "I've got a million startup ideas" person (yet, never seem to actually start anything)—Tech Cofounder Dating LA was actually founded on the premise that somewhere in our land of silicone in the Silicon Beach, there does exist…doers.
Aaron saw a problem in the market based upon his own need and wanted to fill that void by creating a viable solution, his meetup group. He quickly determined that there were a slew of people seeking their "better business half," for as quickly as he posted the event on meetup.com, they were over-capacity and had people on the wait list chomping at the rope to get in—as if this was their "only hope" for a true business hookup.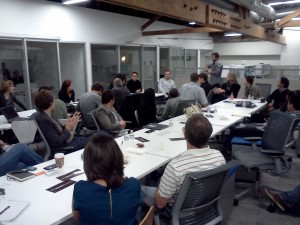 I discovered Tech Cofounder Dating LA through a Google search, as I, too, was looking for that proverbial "significant other, left-brain business development strategist" to round out my creative energy and the moment I stumbled upon this meetup—I signed right up! I couldn't help but hope my new business partner in crime was right around the corner. And guess what? The über-sweet news is the Tech Cofounder Dating LA event was every bit as cheeky-geeky cool as I imagined it would be because the people who showed up were there with a serious intent to make a connection—yes…doer!

In his opening remarks, Aaron said to "think of this group like your Y-Combinator." The format was warm and welcoming, as if a large group of friends were sitting around a campfire…lots of camaraderie.  Everyone was mingling (and snacking on the trendiest cupcakes in town sponsored by BIGMANBAKES—serving up fresh, moist, mini cupcakes in assorted flavors like "old school," "red velvet cake," and "black & white"—delish!), then moved into what I would classify as an open mic session for entrepreneurs whereby everybody had an opportunity to introduce themselves "on the mic," and explain their business model and/or startup, along with their "dating" needs, i.e. "I'm looking for a full-time CTO or business person to backup our frontend development on a major social networking platform that we have investor interest on."
I was duly impressed with the array of entrepreneurs present, from tech to business savvy, veterans to new-bees, all with the intent on building awesome technology companies here in Silicon Beach, Los Angeles.

What were a few general themes that popped up in the open mic sessions? Well, 1) the word "content" was used frequently, 2) there were what seemed to be a handful of "groupon-esque" related businesses attempting to isolate and dominate a niche, as well as 3) crowdsourcing in a niche, like crowdsourcing around the concept of getting a tattoo, or in one humorous moment, "crowdsourcing a boob job—boobfunder.com," (which in Hollywood, well, almost seems natural nowadays, plus aligning the concept in support of breast cancer), 4) there were a few location-based travel ventures, and 5) in several instances many presenters were marketing the fact that their startups empowered people by giving individuals a new economic opportunity.
What were the most unique pick-up lines? I'll highlight two: 1) "Hi, my name is Gregg and I look like Borat." (Insert crowd laugh here, because Gregg did look like Borat.) And for the record, (one of) Gregg's businesses is boobfunder.com. So, now you can put a face to the concept—meet Gregg Martin! And, 2) "Hi, my name is Tracy, and I've been a licensed nerd for 30 years." (Insert intrigue here. Tracy definitely led the room in all around experience—a former executive at toy-giant Mattell—with a cutting-edge vision for whether a consumer-based product would actually work. Tracy also claimed to be a "professional naysayer"—which is a great quality in business.)