Not long ago Las Vegas wasn't part of the technology innovation. In fact, the basic premise of Vegas has kept it simple in a way—gambling, drinking, and showgirls. The nightlife is unrivaled and the entertainment is unforgettable. "Vegas means comedy, tragedy, happiness, and sadness all at the same time." —Artie Lange. Artie has it right! Vegas is everything to everyone. But would you ever say Vegas was a technology hub?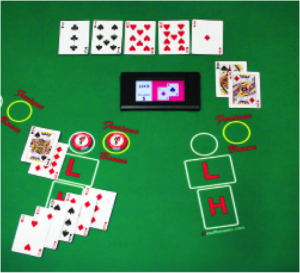 Not until recently did I find myself in awe of some of the technology advancements going on in Sin City. I stay at the same room on the strip, great views and superb staff at the Paris/Bally's, but then I hit the smokey casino floor, the waitresses clad in skimpy dresses, music was loud, and the craps table had a gang around it screaming and clapping. The sounds of slots and people from around the world engaging in all their vices. I found myself at a Pai Gow table. I play poker. I enjoy poker. The cards, the drinks, the felt tables where cards float across as if on a cushion of air, and that is when I noticed. There in the middle of this table, I couldn't believe it, a small touch-screen LCD panel the dealer keeps tapping. As I watch for the next few hands—it hits me—that screen is a display of all the hands around the table. Wait, wait wait. I have been going to Vegas for years, but I have never seen anything like this. How did it know? If players had problems setting their Pai Gow hand the dealer would simple push the according seat number on the LCD and it would say how to play with best odds and correctly.
So I inquired with the Pit Boss and he explained to me that automatic shufflers not only shuffle, but continuously monitor the cards in the deck. It knows when cards are missing, what card is missing and which players have which cards. It knows everything on that table!