HOLLYISCO is excited to be covering The Siemer Silicon Beach Summit—a premier event formulated to meet today's hottest trends in entertainment technology. In this article:
Siemer Silicon Beach Summit (Keynote by Arianna Huffington)
The Rise of "Silicon Beach" (The Next Wave)
The Emerging Celebrity-Tech Crossover (Celebrity Branding)
The Boom of Digital Multi-Media Companies in L.A. (Global Interest in Hollywood)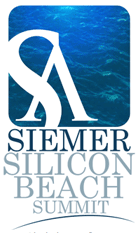 Siemer & Associates, LLC—a global, boutique, merchant bank serving digital media, software, and technology companies will host a specialized invite-only conference at the famous 'Shutters on the Beach Hotel' in Santa Monica next week, aptly named Siemer Silicon Beach Summit—bringing together an elite group of leading players in digital media and emerging entertainment technology companies from around the world. Co-hosted by Manatt, Phelps & Phillips, LLP—a leading national law firm representing a sophisticated client base from Fortune 500 to a diverse range of emerging companies—the Siemer Silicon Beach Summit will draw 300+ CEOs, VC's, and global media executives with a focused intent on increasing the recognition of Southern California as the premier epicenter for technology investing—banking on the power of Hollywood. Online media pioneer Arianna Huffington, President and Editor-in-Chief of the AOL Huffington Post Media Group, who launched HuffPo right here in Los Angeles—aka "Silicon Beach"—will present the opening keynote.
The Siemer Silicon Beach Summit is seen as a way to foster relationships and connections throughout the burgeoning international tech community—especially those companies centered on entertainment technology that comprise a large part of the "entech" startup scene currently thriving in Southern California.
"The Siemer Summit presents tremendous opportunities for entrepreneurs and innovators to shape the future of digital media. Connections and networks define the new media landscape, and this Summit will build both," said Hale Boggs, a partner at Manatt who, with firm partner Jonathan Bloch, created the Summit with Siemer & Associates.
The Siemer Summit is on the cutting edge and poised to become the premier "must-attend" conference on the West Coast—"SoCal is leading the world in digital content creation, content monetization, game development, and celebrity-focused media and commerce, fueled by the expanding focus on major film, television, and music studios who are increasingly becoming purveyors of streaming video, music, and digital content," says Seimer & Associates, LLC.
The Siemer Summit will provide 50 industry-leading companies an opportunity to showcase their visions. A sampling of presenters in attendance include:
BuzzMedia: the web's fastest growing entertainment publisher reaching more than 50MM monthly pop culture, music, and celebrity enthusiasts worldwide. BUZZMEDIA'S more than 40-category leading brands include Buzznet, Celebuzz, Absolute Pink, and GoFugYourself to name a few, plus the official sites for celebrities like Kim Kardashian, Whitney Port, Kimora Lee Simmons, and others.